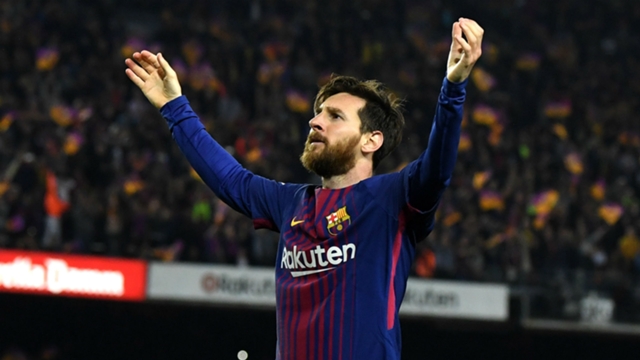 Lionel Messi is set to be confirmed as the winner of the 2017-18 European Golden Shoe after smashing 34 goals for Barcelona in their Liga-winning campaign.
Messi came off the bench late on as Barca rounded off their season with victory over Real Sociedad at Camp Nou, with the Argentine also claiming the Pichichi Trophy for the top goalscorer in the Primera Division.
The Argentine's 34 Liga goals translate to a Golden Shoe score of 68 based on the league's coefficient, leaving him clear of nearest challengers Mohamed Salah (32/64) and Harry Kane (30/60).
But the Premier League's early finish meant Liverpool and Tottenham's star strikers had no chance of catching him up, leaving two Serie A strikers as his closest active challengers at the weekend.
Ciro Immobile and Mauro Icardi both finished the Serie A season on 29 goals after they met in the dramatic clash between Lazio and Inter on the final day of the season, but both were well off Messi in the final reckoning.
It also bears mentioning that Benfica sharp-shooter Jonas managed the same amount of strikes as Messi going into the last round of fixtures, but was left out of contention due to the Portuguese Primeira Liga's inferior coefficient.
Messi's nearest challenger from the Spanish top-flight was unsurprisingly Cristiano Ronaldo, with the Real Madrid frontman recovering from a slow start to the campaign to finish with 26 goals.
The Argentine's achievements mean he has now won five Pichichi's to Ronaldo's three, while he is also set to overtake Ronaldo's tally of four Golden Shoes with his most recent victory.
Messi also broke the 30-goal mark in La Liga for the seventh season in the last nine, having failed to reach that tally only in the 2013-14 and 2015-16 campaigns.